Wolf River Coils
We build quality antenna coils that are easy to tune and easy to install. Our primary coil, The Silver Bullet 1000, is mostly for mobile application by allowing a single antenna for multi-band operation. It is similar to the popular screwdriver antenna but at a greatly reduced cost and without complicated mechanical breakdown.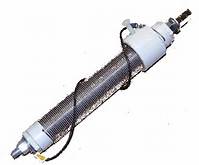 While mobile installation is the dominate application for our coils, they can be used for apartment dwellers, amateurs dealing with confined space or stealth antenna installation, portable applications, camping or anytime you need to load an antenna without the need of a tuner.
Coil Design
The coil design of Wolf River Coils differs from other coil designs! We groove our coil specifically for proper spacing and placement of our high quality heavy duty stainless steel wire. We shave 1/64ths off the core measured by using a caliper.
We tested numerous cutting depths until we found the perfect match. Wolf River Coils have the optimal spacing needed for wire placement without compromising the PVC strength for mounting antenna whips up to 102". In factory testing, our grooved cores were tested against non-grooved cores for strength and integrity. Both cores withstood this testing equally.
Our tuning couplers are made using a heavy gauge stainless steel pick-up clip. The clip and coupler are drilled and tapped to allow a secure bonding of the clip to the coupler and shortening wire using a stainless steel screw. The stainless steel clip against the stainless steel coil wire helps reduce corrosion between metals, thus a lower stable SWR.
A nylon set bolt is added on our mobile coils to avoid any accidental changes of the tuning coupler once adjusted.
Lastly, we use high grade stainless steel wire in our coils. At the HF frequencies using stainless verses other materials, like copper, has a nominal affect. The advantage using stainless is that it is corrosive resistant which provides maximum signal at your antenna.

Stainless steel has the properties of being able to form a protective layer once scratched. Sliding a tuning coupler up and down on other materials will slowly erode their protective coating. This can cause corrosion leading to arcing or burn outs.
Wolf River Coils are easily maintained by simply wiping the coil with a dry cloth to get rid of any of the bugs or other road debris you'll collect. Your coil will look shinny and new for years to come.
Many Wolf River Coil Options
Currently we offer a number of coils. We can also build, with some limitations, specially designed coils for your particular needs. Contact us for a quote. You may conveniently purchase online. Just visit the Shop section.
Silver Bullet 1000
Silver Bullet Mini
Take It Along (TIA)
SOTA Special
Saber & Saber Mini
Otophone
Portable Vertical
Replacement Coil for Hy-Gain AV-18VS
Silver Bullet HV Wire antenna